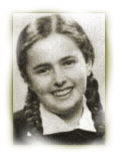 A thirteen-year-old girl, Eva Heyman, wrote these lines in her secret diary on May 30, 1944 - her last diary entry. She called her diary 'my best friend' and poured her fears into it:
Yet, my little Diary, I don't want to die, I still want to live .. I would wait for the end of the war in a cellar, or in the attic, or any hole, I would, my little Diary, I would even allow that cross-eyed gendarme who took the flour from us to kiss me, only not to be killed, only to be left alive!
Eva Heyman was born in Nagyvarad, Hungary in 1931. The family's feelings of security collapsed, however, when Germany invaded Hungary, and the brutality of the Nazis accelerated with murder, violence and terror. Eva lived with her grandparents, because her parents divorced and her mother, in the diary called Agi, remarried. The family were at great risk because they were Jewish, and Eva and her grandparents were arrested and deported to the deathcamp Auschwitz on June 2, 1944. They were killed October, 1944.
Eva's mother, Agnes Zsolt, was rescued from Bergen-Belsen by Allied troops in 1945. She came back to search for her daughter, but gradually realized that she had been killed. She found and published Eva's secret diary and told how Eva was sent to the gas chambers by Josef Mengele at Auschwitz:
"A good-hearted female doctor was trying to hide my child, but Mengele found her without effort. Eva's feet were full of sore wounds. 'Now look at you', Mengele shouted, 'you frog, your feet are foul, reeking with pus! Up with you on the truck!' He transported his human material to the crematorium on yellow-coloured trucks. Eyewitnesses told me that he himself had pushed her on to the truck."
Eva Heyman, thirteen-years-old, was gassed that same day, on October 17, 1944 ..

After arranging for her daughter's diary to be published, Eva's grief-stricken mother Agnes Zsolt succumbed to a downward spiral of self-destructiveness and despair and committed suicide.