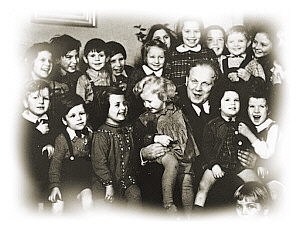 Group portrait of Danish-Jewish children living in a Swedish children's home, after their escape from Denmark.
Denmark was also different and special in another way. Almost everywhere else in Europe, returning Jews found their homes had been broken into, and everything of value stolen. When the Danish Jews returned , they discovered that their homes, pets, gardens and personal belongings were cared for by their neighbors.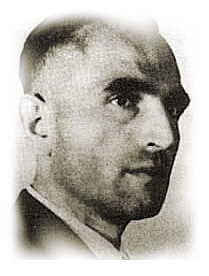 Werner Best
Werner Best was arrested when Denmark was liberated in 1945, his death sentence was reduced to 12 years in jail, by Denmark's Supreme Court, he died in 1989. Georg Duckwitz after the war served as Germany's Ambassador to Denmark and was honored by Israel for his part in the rescue of Jews, he died in 1973. Mr. Hans Hedtoft, the Danish politician and statesman, served as postwar Prime Minister of Denmark.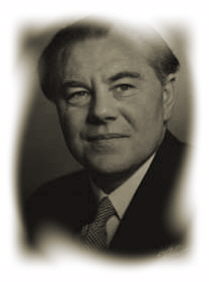 Hans Hedtoft
Hans Hedtoft was instrumental in saving the Danish Jews. As secretary of the Social Democratic party in 1935 Hans Hedtoft was elected to Parliament, but he resigned his seat in 1940, during the German occupation of Denmark in WWII. A member of the Danish resistance movement, Hedtoft became minister of social affairs in the first postwar government in 1945. He headed a Social Democratic government in 1947-50. Hedtoft again became prime minister in 1953, but died in Stockholm that year while attending a meeting of the Nordic Council.
In Jerusalem, a boat-like monument was erected on the 25th anniversary of the rescue of Danish Jewry, and a school was named in Denmark's honor. Many cities and towns in Israel have a street or square commemorating the heroism of the Danes. Moreover, one of the prominent items on display in Yad Vashem, the Holocaust Memorial in Jerusalem, is a small boat that was used to ferry Jews to safety in Sweden. The boat is situated near the Righteous Alley, signifying rescue, hope, life - and trust in the human spirit. Its display is a tribute to the Danes who made the difference during the most tragic period in the last century.
In Copenhagen's Israelplads there is a monument from Eilat stone with an inscription in both Danish and Hebrew, a gift of the people of Israel. King Christian X' grandchild, Denmark's Queen Margrethe II, was the patron of the events marking the 50th anniversary of the rescue operation of Danish Jews.