Gustav Wagner, Deputy Commandant of Sobibor, ordered the deaths of hundreds of thousands of Jews as chief of the selections. He was sentenced to death in absentia by the Nuremberg Tribunal, but escaped with Franz Stangl with the help of the Vatican to Brazil, where Wagner was admitted as a permanent resident on April 12, 1950.
He lived openly in Sao Paulo until his arrest on May 30, 1978, but the Brazilian Supreme Court refused to extradite him to Germany. According to his attorney Gustav Wagner comitted suicide in October 1980.
Eleven of the SS men who had served at Sobibor were brought to trial, accused of crimes against humanity. The proceedings took place in Hagen, West Germany, from September 6, 1965, to December 20, 1966.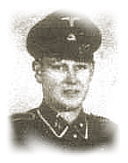 Kurt Bolender
One of the accused, Kurt Bolender, the former commander of extermination Camp III, committed suicide. SS Oberscharfuehrer Karl Frenzel was sentenced to life imprisonment, five were given sentences ranging from three to eight years, and four were acquitted.
SS-Unterscharfuehrer Erich Fuchs had helped in the construction of the gas chambers at the deathcamps Belzec, Sobibor and Treblinka. He was convicted for having directed experimental gassings that killed at least 3,000 Soviet prisoners - he was sentenced to four years in prison. He died in 1984.
In a 1962-63 trial in Kiev in the Soviet Union ten of the Ukrainian guards received death sentences, one was sentenced to fifteen years in prison. In June 1965, three other Ukrainian guards were sentenced to death.
Most of the SS men who served in the Aktion Reinhard death camps of Sobibor, Belzec, and Treblinka were never brought to trial.
The Sobibor camp area was designated by the Polish government as a national shrine, and a memorial was erected on the site.