One of the children of La Maison d'Izieu was eleven-year-old Liliane Gerenstein. Lilliane and her brother were sent to their deaths a few days after she wrote this letter to God:
God? How good You are, how kind and if one had to count the number of goodnesses and kindnesses You have done, one would never finish.

God? It is You who command. It is You who are justice, it is You who reward the good and punish the evil.

God? It is thanks to You that I had a beautiful life before, that I was spoiled, that I had lovely things that others do not have.

God? After that, I ask You one thing only: Make my parents come back, my poor parents protect them (even more than You protect me) so that I can see them again as soon as possible.

Make them come back again. Ah! I had such a good mother and such a good father! I have such faith in You and I thank You in advance.

The children's father, Chapse, miraculously survived the Holocaust and emigrated to the United States.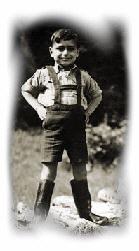 Georges Halpern
Another child of Izieu was eight-year-old Georges Halpern, born Oct. 30, 1935 in Vienna. After the war a letter to his parents was found - the little boy wrote:
Chere Maman, I send you 10000000000 kisses your son who loves you very much. There are big mountains and the village is very pretty. There are a lot of farms and we look for blackberries and raspberries and white mulberries. I hug you with all my heart. Georgy.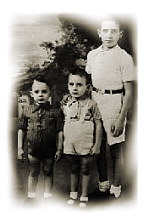 Jacques and his brothers
Jacques Benguigui was born on April 13, 1931, in Oran, Algeria, but the family moved to Marseilles, France, shortly before WW2. His mother was deported to Auschwitz in Poland on July 31, 1943, and Jacques and his two younger brothers, Richard, six years old, and Jean-Claude, who was five, were sent to be sheltered in the Children's home in Izieu.
While in Izieu Jacques wrote a letter to his mother:
O Maman, my dear Maman, I know how much you've suffered on my account and on this happy occasion of Mother's Day I send you from afar my best wishes from the bottom of my little heart. So far from you, darling Maman, I've done everything I could to make you happy: when you've sent packages, I've shared them with the children who have no parents. Maman, my dear Maman, I leave you with hugs and kisses. Your son who adores you. Jacques
After the Nazi raid Klaus Barbie and Alois Brunner sent a telex to Gestapo headquarters in Paris declaring that the children's colony at Izieu had been removed and arrangements made for the deportation of its residents. The full text, which contains mistakes about the children's ages and apparently counted three of the oldest children among the adults arrested, reads:
"This morning, the Jewish children's home, Children's Colony, at Izieu has been removed. 41 children in all, aged 3 to 13, have been captured. Beyond that, the arrest of all the Jewish personnel has taken place, namely 10 individuals, among them 5 women. It was not possible to secure any money or other valuables. Transportation to Drancy will take place on 4/7/44. Signed Klaus Barbie."