The Violin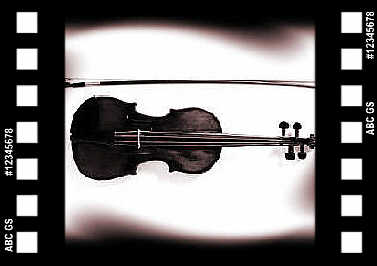 This finely crafted violin once belonged to the famous violinist Henry Rosner, one of the surviving
Schindler Jews
.
In 1943 the Rosner family was sent to the forced labor camp of Plaszow. Here the conditions of life were made dreadful by the commandant of Plaszow, SS officer
Amon Goeth
. Goeth had made the final "liquidation" of the Cracow ghetto and had experience at three death camps in eastern Poland, Belzec, Sobibor, and
Treblinka
.
A despicable, demented deviate who passes his mornings by using his high-powered, scoped rifle to shoot at children playing in the camp. Amon Goeth often would use it as an incentive to work harder. For example, some men hauling coal were moving too slow for his liking. Goeth shot one of them with his sniper rifle so the rest would hurry up. A prisoner in Plaszow was very lucky if he could survive in this camp more than four weeks.
The violinist Henry Rosner and Poldek, his brother, an accordionist, entertained Goeth and his frequent guest, Oscar
Schindler
, at numerous dinner parties. Schindler, this remarkable man who outwitted Amon Goeth and the Nazis to save more Jews from the gas chambers than any other single person during WWII.
Goeth's love of music helped the Rosners survive Plaszow and Oscar Schindler's fondness for the Rosner's compelled him to add the entire Rosner family to his famous
list
of 1100 workers.
After the war Henry Rosner became a very well known cafe- and restaurant violinist in New York. Rosner loved to relate espicially this story about when he was entertaining the Nazis at Amon Goeth's villa.
An SS officer, saddened by a love affair, got drunk and asked the Rosners to play a melancholy tune, a Hungarian song called 'Gloomy Sunday'. An emotional outpouring in which a young man is about to commit suicide for love - actually the tune had led to several suicides across Europe.
The Rosners played it repeatedly, and after the SS officer had demanded the song four or five times, an unearthly conviction took hold of Henry Rosner. He later recalled 'God, if I have the power, maybe this son-of-a-bitch will kill himself. I played the song 35 times in a row. He opened the door to the balcony and ...'
The SS officer walked out and shot himself through the head ...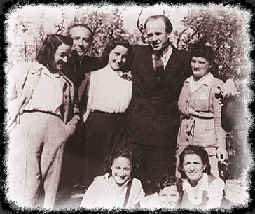 Schindler with the Rosner family1946
After WW2 Henry Rosner was reunited with his beloved instrument, and soon Oscar Schindler re-entered their lives, staying with the Rosners in Queens many times on his visits.
Henry Rosner, born in Crakow, Poland on March 2, 1905, passed away December 3, 1995.