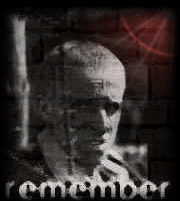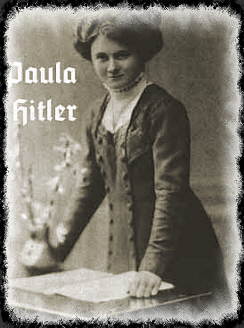 On January 21, 1896, an innocent child was born in the small farm community of Hafeld, Austria, 30 miles southwest of the old provincial capital of Linz, on the Danube. The name of the child was Paula Hitler, the last child of Alois Hitler and his third wife Klara. Paulas mother, born Klara Pölzl, was 23 years younger than Alois. She was so closely related to her husband that a special dispensation was sought from Rome before they could marry in 1884.
The couple had five children, but only two survived to become adults: Paula and her elder brother, Adolf Hitler, murderer of millions, master of destruction and organized insanity. Two of her siblings died from diphtheria when they were children, and one died shortly after birth.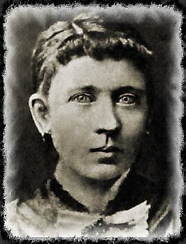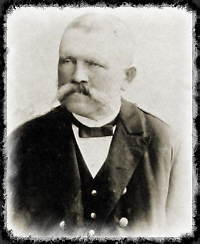 Klara and Alois Hitler
Their father, Alois, was a hard, conscientious Customs Official, punctilious to a fault with a difficult temper that flared with no apparent provocation. Paula later recalled how Adolf bore the brunt of the father's discipline:
"Adolf challenged my father to extreme harshness and got his sound thrashing every day. He was a scrubby little rogue, and all attempts of his father to thrash him for his rudeness and to cause him to love the profession of an official of the state were in vain. How often on the other hand did my mother caress him and try to obtain with her kindness where the father could not succeed with harshness ..."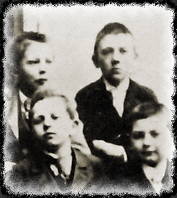 Young Adolf top right
Paula was six years old when Alois Hitler died in 1903 after suffering a pleural hemorrhage, and Klara brought up Adolf and Paula on her own. Paula later told about Adolf and their childhood during her interrogations after the war:
"My brother was very good in some subjects, and very weak in others. He was the weakest in mathematics and, as far as I can remember, in physics, also. His failures in mathematics worried my mother. He loved music. He preferred Wagner even then. Wagner was always his favorite.

Since I was so much younger than my brother, he never considered me a playmate. He played a leading role among his early companions. His favorite game was cops and robbers, and that sort of thing. Adolf as a child always came home too late. He got a spanking every night for not coming home on time .. After my brother finished school he went to Vienna. He wanted to go to the Academy and become a painter but nothing came of it. My mother was very sick at the time. She was very attached to Adolf and wanted him to stay home. That's why he stayed. He left the house after her death in 1907 .. "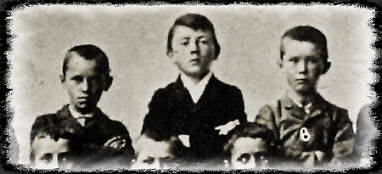 Center young Adolf Hitler with schoolmates 1900
Later Paula worked as a secretary for a group of doctors in a military hospital. Each year Hitler sent her a ticket to the impressive Nuremberg Rally. She later recalled:
"From 1929 on I saw him once a year until 1941. We met once in Munich, once in Berlin, and once in Vienna. I met him in Vienna after 1938. His rapid rise in the world worried me. I must honestly confess that I would have preferred it if he had followed his original ambition and become an architect. It would have saved the world a lot of worries .."
When Hitler rose to power in Germany and Europe, he made Paula change her name from Paula Hitler to Paula Wolff - Wolff was Adolf Hitler's nickname. She later told:
"The first time that my brother suggested my changing my name was at the Olympic Games in Garmisch. He wanted me to live under the name of Wolff, and maintain the strictest incognito. That was sufficient for me. From then on I kept this name. I added the Mrs. as I thought that less conspicuous."
Until the last weeks of the war, Paula Hitler lived in Vienna where she was arrested by US Intelligence officers in May, 1945. During the interrogations, she told how her brother had been deeply affected by his mother's death when he was 18. After breaking into tears, she said: Please remember, he was my brother:
"The personal fate of my brother affected me very much. He was still my brother, no matter what happened. His end brought unspeakable sorrow to me, as his sister .."
Paula was released and returned to Vienna to work in an arts and crafts shop. On December 1, 1952, she moved to a two-room flat near Berchtesgaden, Hitler's mountaintop retreat on the German-Austrian border, where she lived in seclusion under the last name of Wolf until her death on June 1, 1960.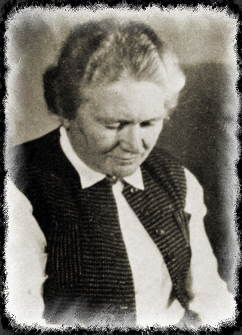 Paula Hitler
Paula Hitler, who never married or had children, is buried in the Bergfriedhof in Berchtesgaden as the only member of the immediate family to carry the name Hitler on her tombstone.


---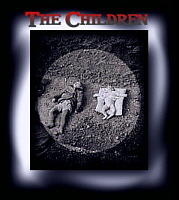 sources:
John Tolland: Adolf Hitler
The Dwight D. Eisenhower Library
The George Duncan 's Facts of WW2
National Archives and Records Administration
www.auschwitz.dk www.oskarschindler.com www.emilieschindler.com www.shoah.dk

Louis Bülow All Rights Reserved © 2016-18