Juana Bormann
Juana Bormann was a murderous SS woman, who served in the deathcamp Auschwitz and Bergen-Belsen. She was known as The woman with the dogs, who took sadistic pleasure in setting her wolfhounds on prisoners to tear them to pieces.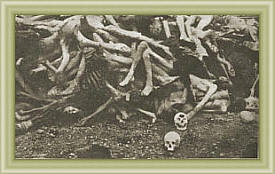 Juana Bormann joined the SS as a civilian employee on March 1, 1938, because - as she later said during The Belsen Trial - I could earn more money ..
After World War 2 Juana Bormann was found guilty and convicted of war crimes and the execution was set for December 13, 1945. In his book of memoirs, Executioner, the English hangman Albert Pierrepoint described Juana Bormann's last hours. The afternoon before execution each prisoner was weighed so the correct drop could be calculated for them:
"She limped down the corridor looking old and haggard. She was forty-two years old, only a little over five feet high .. she was trembling as she was put on the scale. In German she said: I have my feelings .."