---
One of the greatest German-speaking novelists of the twentieth century, Thomas Mann, was born June 6th, 1875, in the Northern German town of Lübeck. After his father`s death 1891 Thomas Mann moved to Munich which was at the time the cultural and artistic capital of Germany. In 1905 Thomas Mann married Katja Pringsheim, and they had a successful and happy marriage and became parents to six children.
During his stay in Munich Mann produced his famous works Buddenbrooks , 1900, Death in Venice, 1912, and The Magic Mountain, 1924, which earned him the Nobel Prize.
His anti-fascist convictions found expression in Mario and the Magician (Engl. trs. 1930), set in Mussolini's Italy, which demonstrated the dangers of a charismatic conception of political leadership and the powerlessness of the audience in the hands of a hypnotic demagogue. With the advent of the Nazi regime, Thomas Mann, like his novelist brother, Heinrich, and the rest of the family, emigrated to Switzerland, before moving on to the United States in 1938.
| | |
| --- | --- |
| | In 1936 Thomas Mann was officially deprived of his German citizenship and in the same year he was stripped by the Bonn academic senate of his Honorary Doctorate. |
The Nazis avoided all mention of his name, attempting to expunge his memory from the German consciousness. For his part, Mann took an active part in the anti- Nazi struggle, denouncing the 'terrible complicity of the German universities' in breeding 'those ideas which are ruining Germany morally, culturally, and financially'.
In America, where he taught for a time at Princeton University, Mann composed a number of anti-Nazi essays, including The Coming Victory of Democracy (1938). It was in his Swiss and American exile that he completed his monumental four-volume novel, Joseph und seine Bruder (Joseph and His Brothers), between 1933 and 1944, a moving tribute to the Jews in their darkest hour and to the freedom of the individual against a corrupt tyranny.
Mann's final reckoning with Hitler's world, with the mixture of genius and madness in the German 'soul' and the horrors of a collapsing civilization came in his last major novel, Dr Faustus (1949, Engl. trs. 1950). Mann died on 12 August 1955 in Zurich, Switzerland, to which he had returned one year before his death.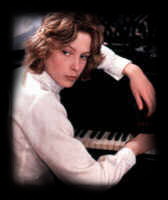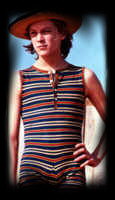 Bjorn Andresen as Tadzio in Death In Venice
His Death in Venice is one of the most beautiful books the 20th century has yet produced, and Thomas Mann was inspired to write Death in Venice after seeing the composer Gustav Mahler break down in tears on the train departing Venice.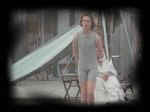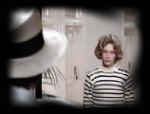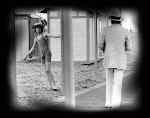 Tadzio and Von Achenbach in Death in Venice
The central character is the greatly respected, but ageing professor Von Achenbach, who at the turn of the century leaves his native Germany for a holiday in Venice. Once installed in a comfortable hotel he notices among the guests an almost unaturally beautiful Polish boy, Tadzio.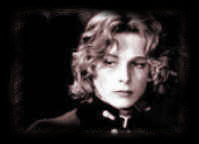 Tadzio disturbs Von Aschenbach
Von Aschenbach is slowly but surely obsessed and although he watches Tadzio, he dare not speak to him. Although married and heterosexual he finds that the beauty of a young boy and his ensuing obsession disturbs him deeply and results in a re-awakening of his emotions that we find are dormant through a series of flashbacks.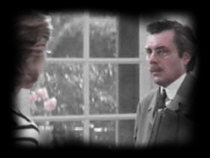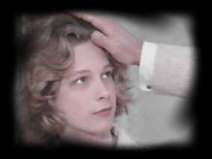 Dirk Bogarde and Bjorn Andresen in Death In Venice
Despite warnings of a cholera epidemic Aschenbach stays in Venice; he sacrifices his dignity and well-being to the immediate experience of beauty as embodied by Tadzio. After exchanging a significant look with the boy on the day of Tadzio's scheduled departure, Aschenbach dies of cholera.
In Luchino Visconti`s movie Death In Venice (1971) Dirk Bogarde plays, with great restraint, the world-famous von Aschenbach who has developed this uncontrollable passion for the ravishing young boy Tadzio, beautifully played by Bjørn Andresen.
The dialogue is sparse and the music is basically limited to Mahler's Adagietto from Symphony No. 5. Notwithstanding, never has the marriage of music and film been more vital or more atmospheric. Mahler's haunting music was seemingly composed for this film and the effect is chilling. Dirk Bogarde is perfection as the bitter, vitriolic Gustav Aschenbach, a man so consumed with what he considers ideal beauty that he welcomes his own destruction for a moment in it's company.
The young Bjorn Andresen is, too, equally captivating as the object of Aschenbach's obsession. Even though his role is essentially a non-speaking one, what he achieves within the limits of the role is extraordinary.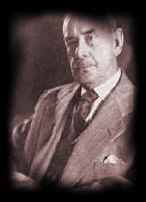 Thomas Mann

The Works of Thomas Mann:
1897: Little Herr Friedemann
1901: Buddenbrooks
1903: Tristan, Tonio Kröger und andere Novellen
1906: Fiorenza
1909: Royal Highness
1912: Death in Venice
1918: Reflections of a Nonpolitical Man
1919: A Man and His Dog
1922: Beginn Bekenntnisse des Hochstaplers Felix Krull (Roman)
1923: Goethe und Tolstoi. Von Deutscher Republik
1924: The Magic Mountain
1930: Mario and the Magician
1933: Sufferings and Greatness of Richard Wagner
1938: Achtung Europa!
1939: The Beloved Returns
1940: Transposed Heads
1943: Joseph and His Brothers
1944: The Tables of the Law
1945: Deutschland und die Deutschen
1947: Doctor Faustus
1951: The Holy Sinner
1953: The Black Swan
1954: Confessions of Felix Krull, Confidence Man
1955: Versuch über Schiller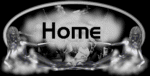 ---
source: Routledge 1998