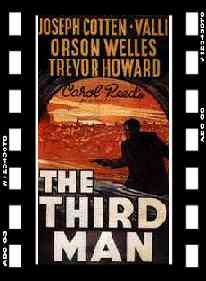 British cinema's most successful attempt at a Hollywood-style noir masterpiece. A lucky mix of exactly the right people at the right time, with Orson Welles still riding high on his film success and notoriety in the States, and seasoned professional like Trevor Howard, Carol Reed & Graham Greene discreetly turning in flawless performances in their respective fields
The British Film Institute recently spent a year questioning 1,000 movers within the business and The Third Man was the greatest British movie ever, according to a definitive survey of industry insiders. The fractured Europe post-World War II is perfectly captured in Carol Reed's masterpiece thriller with shady characters dipping in and out of the shadows of postwar Vienna, still shell-shocked from battle.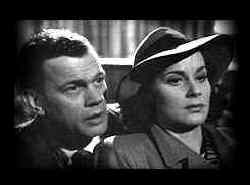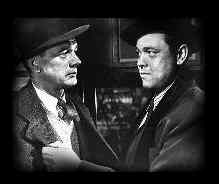 Joseph Cotton with Alida Valli and Orson Welles
Holly Martins (Joseph Cotton) is a cheap American pulp fiction writer come to visit his old friend Harry Lime (Orson Welles). But when Martin first arrives in Vienna, he is told that Lime has met an accidental death and Lime's funeral is under way. From Lime's girlfriend (Alida Valli) and an occupying British officer Major Calloway, played by Trevor Howard, Martins learns of allegations of Lime's involvement in racketeering, which Martins vows to clear from his friend's reputation.
Martins develops the ultimate conspiracy theory after learning of a "third man" present at the time of Harry's death, and as he is drawn deeper into postwar intrigue, Martins finds layer under layer of deception, which he desperately tries to sort out. Good career-making performance by Joseph Cotten, but the film is stolen by Orson Welles, who does not appear until over half the movie is over and only remains on screen for three major scenes. Orson Welles's long-delayed entrance in the film - arguably one of the greatest in film history - has become one of the hallmarks of modern cinematography, and it is just one of dozens of cockeyed camera angles that seem to mirror the off-kilter postwar society.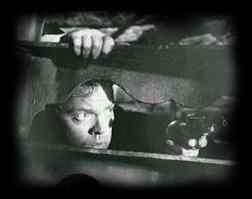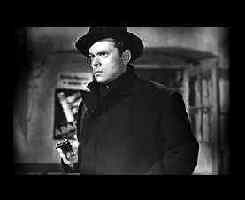 Orson Welles as The Third Man
Here we find the film's most famous passage of dialogue, Harry Lime:"In Italy for 30 years under the Borgias they had warfare, terror, murder, and bloodshed, but they produced Michelangelo, Leonardo da Vinci, and the Renaissance. In Switzerland they had brotherly love - they had 500 years of democracy and peace, and what did that produce? The cuckoo clock ..."
And the Viennese composer/performer Anton Karas apt, slippery zither theme will haunt you, a worldwide phenomenon in itself. It creates this rare movie atmosphere. The solo instrument zither music score lingers long after the film's viewing with its twangy, lamenting tones. Just listen ...
The Third Man was a milestone in Orson Welles' career, as the famed French critic André Bazin noted, because of "the astonishing crystallizing process that took place around Welles through the character of Harry Lime. For the first and perhaps only time, this very popular actor finally found the part that could identify him in the public consciousness ..." Pronounced a genius at the age of two, by the time he was a teenager Orson Welles was acting, directing, writing, even producing theatrical reviews.
Well before his eighteenth birthday Orson Welles had become a star ...
His pioneering radio programmes culminating in the notorious 1938 broadcast of H. G. Wells`s The War of the Worlds caused a nationwide panic when listeners thought aliens had landed in New Jersey.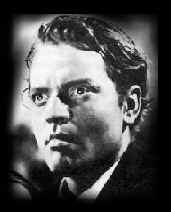 Finally Hollywood and his Citizen Kane, even today regarded by many as the finest film ever made, the work of a 23-year-old with no previous experience in the medium.
When Orson died, he was 70 years old. He died of a heart attack on the night of October 9, 1985. He died sitting at his typewriter, working on the next day's script changes for his movie, The Other Side of the Wind. In his lifetime, Orson Welles starred in over sixty movies, and many of these he directed and wrote himself. He left behind an uneven but extremely memorable body of work.

Directed by
Carol Reed

Starring
Joseph Cotton (Holly Martins)
Alida Valli (Anna Schmidt)
Trevor Howard (Major Calloway)
Orson Welles (Harry Lime)
Ernst Deutsch ("Baron" Kurtz)
Erich Ponto (Dr. Winkel)
Siegfried Breuer (Popescu)
Hedwig Bleibtreu (Old Woman)
Bernard Lee (Sergeant Paine)
Wilfrid Hyde-White (Crabbin)
Nelly Arno (Kurtz' Mother)
Leo Bieber (Barman (Casanova))
Alexis Chesnakov (Brodsky)
Herbert Halbik (Hansel)
Paul Hardtmuth (Hall porter)
Paul Horbiger (Porter)
Geoffrey Keen (British Policeman)
Annie Rosar (Porter's wife)
Frederick Schreicker (Hansel's Father)
Jenny Werner (Winkel's Maid)

Written by
Graham Greene
Alexander Korda
Carol Reed
Orson Welles

Awards & Recognition
Palme d'Or (Best Film)
Cannes Film Festival 1949
Best British Film
British Film Academy 1949
Academy Award Winner
Best Cinematography (Black and White) 1950
Academy Award Nomination
Best Director 1950
Best Director
New York Film Critics' Awards 1950
One of the 10 Best-Shot Films, 1894-1949
American Cinematographer Magazine (March 1999)
One of the 100 Greatest American Movies of All Time,
American Film Institute poll 1998
---