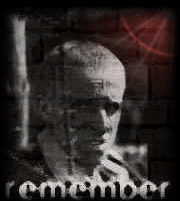 Before World War 2 the Helfgott family led a happy life in a small Polish border town, Piotrkow, where Ben Helfgott made his mark among the young boys. His sister Mala recalled, almost sixty years later: 'Ben was very popular with his friends and always a leader. I remember one day, in Piotrkow before the war, coming across a group of boys and one of them saying, Don't start with her, she is Ben Helfgott's sister.'
But the family's feelings of security collapsed, however, when in September 1939, the Nazis stormed into the country. Ben - not yet 10 years old - saw the full horrors of the occupation firsthand as the Nazi brutality accelerated with murder, violence and terror.
A month later Hitler's Nazis herded the Jews into the first ghetto in occupied Europe. Ben registered at the glass factory in his hometown to work in August 1942, aged 12. It was at the height of the deportation and, as he later recalled, there were rumours that if one had a job assisting the war effort of the Third Reich, one would not be sent away. 'We did not know where Jews were taken - we heard stories of gas chambers, but who could believe it? It was beyond our comprehension.'
The man in charge of his work unit – Mr. Janota - treated him brutally and beat him constantly. Every year at a certain time Mr Janota used to borrow a horse and cart from a friend of Ben's father. This time though, Ben's father was at his friends house when Janota came to borrow the horse. When his father recognized Janota's name he asked him why he behaved so beastly towards his son. After this exchange, the horse-owner didn't want to lend Janota the horse and cart. But Ben's father, who had always been generous of spirit, persuaded him to let Janota have the horse and cart for the day.
Five weeks later, on the 14th of October 1942, the deportation of the Jews from Piotrkow to the deathcamp Treblinka began. Within one week out of 24,500 Jews, 22,000 were deported to certain death. On the last day of the deportation, the cattle trains were not filled to capacity with human cargo. As the glass factory was near the railway station, SS guards marched into the factory and rounded up anyone whom they thought was Jewish.
When Ben was stopped, he insisted that he was a Pole, but the SS continued to question him. At that moment Mr. Janota came to his rescue, confirming that he was a Pole. Janota lied to the SS-men, risking his own life and saving the boy.
Or was it, as Ben asked himself later, his father's example of tolerance and understanding that had saved him?
The horrors of the Holocaust continued, and a few days before the end of the war Ben's father was shot, when he tried to escape to freedom from one of the death marches. He was thirty-eight years old.
Joseph Kermish tells in The Destruction of the Jewish Community of Piotrkow that after one mass execution in the forest near Piotrkow, the wounded were buried together with the dead in a mass grave. A Jew managed to crawl out from under the mountain of corpses and ran wildly through the streets, bloody and halfnaked. When he reached the hospital, he was caught by the Nazis who killed him on the spot. Ben Helfgott's mother Sara and his eight-year-old sister Lusia were among those murdered in the forest ...

Ben Helfgott was sent to a labor camp but miraculously survived. He was weak and emaciated when he was liberated from the camp Theresienstadt at the close of the war in 1945, 15 years old. Together with some hundreds of youngsters he was sent to England.
Soon, in London, he took up weight lifting and Ben Helfgott is the only known survivor of a Nazi concentration camp to compete in the Olympic Games. Within a few years, he was winning local championships and becoming British middleweight weightlifting champion and record holder. He captained the British Olympic Weightlifting Teams of 1956 and 1960.
Ben Helfgott went to university to study economics, married, had three boys and ended up in business: today he is a retired clothing manufacturer.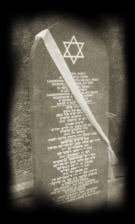 Memorial to the martyrs of Piotrkow murdered in the Rakow Forest
In 1995 he was elected to the International Jewish Sports Hall of Fame. The Hall of Fame honors Jewish men and women worldwide who have accomplished extraordinary achievements in sports and those who have made significant contributions to society through sports.
Desiring to help the young men and women who had come with him from the hell of Europe, Ben Helfgott decided to devote himself entirely to their welfare. Founder of '45 Aid Society for Holocaust Survivors in UK, Chairman 1963-1970, 1970-present. Chairman of Yad Vashem Committee of Board of Deputies of British Jews. Former Chairman, Central British Fund-World Jewish Relief. Member, Council of the Conference on Jewish Material Claims Against Germany.
Ben Helfgott noted in a speech in 1976:
'We have shown that the misery, cruelty, despair and injustice that were inflicted on us did not break our indomitable will. It did not consume us with hatred to the point of destroying our own and other peoples' lives. Instead we set out to create a new life'.



---
sources:
Sir Martin Gilbert:
The Boys. The Untold Story of 732 Young Concentration Camp Survivors
The Holocaust. The Jewish Tragedy
Guardian Unlimited Observer
www.auschwitz.dk www.oskarschindler.com www.shoah.dk
© 2007-2009 Louis Bülow. All Rights Reserved.